Towards a Classification to Facilitate the Design of Domain-Specific Visual Languages
Sándor Bácsi

Department of Automation and Applied Informatics, Budapest University of Technology and Economics, Magyar tudósok krt. 2., H-1117 Budapest and Hungary

https://orcid.org/0000-0002-4814-6979

Gergely Mezei, PhD

Department of Automation and Applied Informatics, Budapest University of Technology and Economics, Magyar tudósok krt. 2., H-1117 Budapest and Hungary

https://orcid.org/0000-0001-9464-7128
Keywords:
domain-specific visual languages, modeling, classification
Abstract
Domain-specific visual languages (DSVLs) are specialized modeling languages that allow the effective management of the behavior and the structure of software programs and systems in a specific domain. Each DSVL has its specific structural and graphical characteristics depending on the problem domain. In the recent decade, a wide range of tools and methodologies have been introduced to support the design of DSVLs for various domains, therefore it can be a challenging task to choose the most appropriate technique for the design process. Our research aims to present a classification to guide the identification of the most relevant and appropriate methodologies in the given scenario. The classification is capable enough to provide a clear and precise understanding of the main aspects that can facilitate the design of DSVLs.
Downloads
Download data is not yet available.
References
Beydeda, Sami, Book, Matthias, Gruhn, Volker, et al. Model-driven software development, volume 15. Springer, 2005.
Blockly website. https://developers.google.com/blockly/. Accessed: 2018-08-22.
Bottoni, P. and Grau, A. A suite of metamodels as a basis for a classification of visual languages. In 2004 IEEE Symposium on Visual Languages - Human Centric Computing, pages 83-90, Sept 2004. DOI: 10.1109/VLHCC.2004.5.
Bottoni, Paolo and Ceriani, Miguel. Sparql playground: A block programming tool to experiment with sparql. In VOILA@ISWC, 2015.
Burnett, Margaret~M. and Baker, Marla J. A classification system for visual programming languages. J. Vis. Lang. Comput., 5:287-300, 1994.
Emf website. http://www.eclipse.org/modeling/emf/. Accessed: 2018-08-25.
Fraser, Neil. Ten things we've learned from blockly. In Blocks and Beyond Workshop (Blocks and Beyond), 2015 IEEE, pages 49--50. IEEE, 2015.
Lego wedo 2.0. https://education.lego.com/en-us/downloads/wedo-2/software. Accessed: 2018-08-21.
Marriott, Kim and Meyer, Bernd. On the classification of visual languages by grammar hierarchies. Journal of Visual Languages and Computing, pages 375--402, 1997.
Mernik, Marjan, Heering, Jan, and Sloane, Anthony M. When and how to develop domain-specific languages. ACM Comput. Surv., 37(4):316--344, December 2005. DOI: 10.1145/1118890.1118892.
Myers, Brad A. Taxonomies of visual programming and program visualization. J. Vis. Lang. Comput., 1(1):97--123, March 1990. DOI: 10.1016/S1045-926X(05)80036-9.
Pasternak, Erik, Fenichel, Rachel, and Marshall, Andrew N. Tips for creating a block language with blockly. In Blocks and Beyond Workshop (B&B), 2017 IEEE, pages 21--24. IEEE, 2017.
Scratch. https://scratch.mit.edu/. Accessed: 2018-08-25.
Sirius website. https://www.eclipse.org/sirius/. Accessed: 2018-08-20.
Sprinkle, Jonathan and Karsai, Gabor. A domain-specific visual language for domain model evolution. Journal of Visual Languages & Computing, 15(3-4):291--307, 2004.
Sysml. https://sysml.org/. Accessed: 2018-08-29.
Uml. http://www.uml.org/. Accessed: 2018-08-29.
Vmts website. https://www.aut.bme.hu/Pages/Research/VMTS/Introduction. Accessed: 2018-08-21.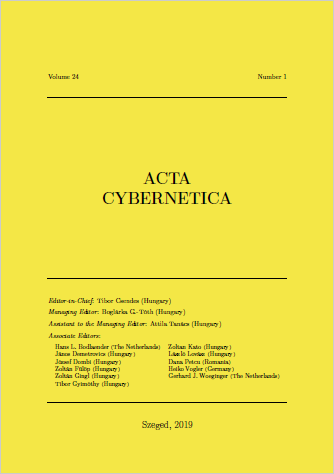 How to Cite
Bácsi, S., & Mezei, G. (2019). Towards a Classification to Facilitate the Design of Domain-Specific Visual Languages. Acta Cybernetica, 24(1), 5-16. https://doi.org/10.14232/actacyb.24.1.2019.2
Section
Special Issue of the 11th Conference of PhD Students in Computer Science