Another Multibody Dynamics in Natural Coordinates through Automatic Differentiation and High-Index DAE Solving
Keywords:
Lagrangian mechanics, differential-algebraic equations, natural coordinates, simulation, algorithmic differentiation, YAML
Abstract
The Natural Coordinates (NCs) method for Lagrangian modelling and simulation of multi-body systems is valued for giving simple, sparse models. We describe our version of it (NPNCs) and compare with the classical ap- proach of Jalón and Bayo (JBNCs). NPNCs use the high-index differential- algebraic equation solver DAETS. Algorithmic differentiation, not symbolic algebra, forms the equations of motion from the Lagrangian. NPNCs give significantly smaller equation systems than JBNCs, at the cost of a non- constant mass matrix for fully 3D models—a minor downside in the DAETS context. A 2D and a 3D example are presented, with numerical results.
Downloads
Download data is not yet available.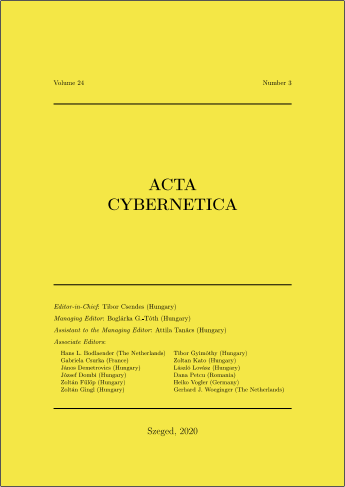 How to Cite
Pryce, J. D., & Nedialkov, N. (2020). Another Multibody Dynamics in Natural Coordinates through Automatic Differentiation and High-Index DAE Solving. Acta Cybernetica, 24(3), 315-341. https://doi.org/10.14232/actacyb.24.3.2020.4
Section
Uncertainty Modeling, Software, Verified Computing and Optimization