Multi-Cloud Management Strategies for Simulating IoT Applications
Keywords:
cloud computing, internet of things, pliant system, simulation
Abstract
The Internet of Things (IoT) paradigm is closely coupled with cloud technologies, and the support for managing sensor data is one of the primary concerns of Cloud Computing. IoT-Cloud systems are widely used to manage sensors and different smart devices connected to the cloud, hence a large amount of data is generated by these things that need to be efficiently stored and processed. Simulation platforms have the advantage of enabling the investigation of complex systems without the need of purchasing and installing physical resources. In our previous work, we chose the DISSECT-CF simulator to model IoT-Cloud systems, and we also introduced provider policies to enable cost-aware policies resource management. The aim of this paper is to further extend the simulation capabilities of this tool by enabling multi-cloud management. In this paper we introduce four cloud selection strategies aimed to reduce application execution time and utilization costs. We detail our proposed method towards multi-cloud extension, and evaluate defined strategies through a meteorological application.
Downloads
Download data is not yet available.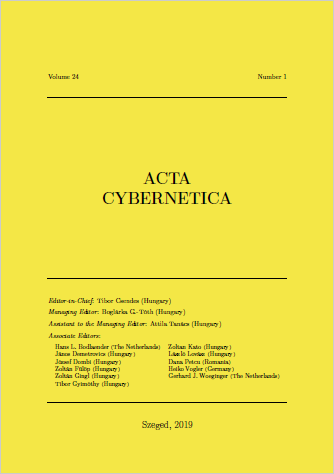 How to Cite
Márkus, A., & Dombi, J. D. (2019). Multi-Cloud Management Strategies for Simulating IoT Applications. Acta Cybernetica, 24(1), 83-103. https://doi.org/10.14232/actacyb.24.1.2019.7
Section
Special Issue of the 11th Conference of PhD Students in Computer Science